FireRack Dual-Mini - ADSL2+ Router / Firewall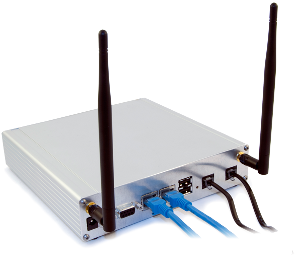 The FireRack Dual-Mini is a firewall/router designed for bonding two ADSL/ADSL2+ lines.
Hardware Specification
AMD Geode LX800 500MHz processor
512MB DDR400 RAM
2 x ADSL2+ Ports
2 x 10/100 Ethernet Ports
2 x USB ports (one external)
Mini PCI socket
Compact Flash socket
RS-232 Serial
Industry standard line bonding
Although most of our customers use the FireRack Dual-Mini on the Netservers ADSL network, the device itself is compatible with any ADSL service that supports the industry standard Multilink-PPP protocol (MLPPP). This is the very same protocol used by Cisco and other standards compliant routers.
Annex-A and Annex-M support
Up until relatively recently, all ADSL in the UK was "Annex-A". This provides up to 24Mbps download and up to 1.3Mbps upload rates. The difference with Annex-M is that the upload rates can go as high as 2.5Mbps. This is done by trading some of your download bandwidth for additional upload bandwidth.
Comparing Annex-A to Annex-M
 
Max. Download Rate
(per line)
Max. Upload Rate
(per line)
Annex-A
24Mbps
1.3Mbps
Annex-M
16Mbps

2.5Mbps
The FireRack Dual-Mini fully supports both Annex-A and Annex-M standards.