Private ADSL, SDSL and FTTC - MPLS for Small Businesses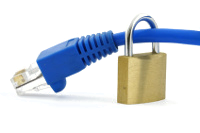 Private ADSL, SDSL and FTTC are a service offered by Netservers to small to medium sized businesses. This service enables businesses to seamlessly connect their offices and teleworkers to one another without the complexities of VPN protocols such as IPSEC, L2TP or PPTP. This technology is also known as a Private WAN or IP-VPN.
A solution for the rest of us
This type of technology has been available to big businesses for many years in the form of MPLS. The complexities and costs involved in MPLS have made adoption amongst small business uneconomical. Netservers innovative Private ADSL and SDSL (collectively xDSL) service now opens this technology up to ordinary businesses.   We have recently added Private FTTC to the product range.   FTTC or 'Fibre-To-The-Cabinet'  technology is also reffered to as 'super-fast broadband' and supports download speeds of up to 40M and upload speeds of up to 10M.  Our Private FTTC service is now available in some areas and offers all the features of our Private xDSL services with additional bandwidth.
How we've lowered costs
Netservers have a major competitive advantage over our rivals in this area.  Our in-house developers have created an xDSL/FTTC platform with fully integrated support for private routing domains.  This platform enables us to create per-customer private routing domains without having to purchase additional hardware or software licenses. Consequently, our set-up times are faster and our costs are lower than the competition.  This platform also gives unrivalled stability and rich diagnostic information that guarantees our customers the highest levels of service.
Managed VPN
In addition to connecting ADSL, SDSL and FTTC lines together in a "private cloud", we also offer a traditional Managed VPN service to supplement the service. Any existing teleworkers and sites that are stuck with a normal xDSL line under contract can join the Private WAN using a VPN connection.
Server Colocation
Netservers can host your company server in our Cambridge Colocation facility or London and connect this into your private cloud.  This is ideal for offsite data storage, central e-mail routing and terminal services applications.
ISP-side Managed Firewalling
A firewall at the ISP end of your ADSL line can prevent your bandwidth being wasted by undesirable traffic from the Internet.  We can provide you with the option of a virtual FireRack instance attached to our end of each ADSL and SDSL circuit.  This supports connection based filtering with optional network address translation.  The firewall policy is fully configurable via our user friendly customer portal.   
For more information on this service, please contact our sales team.